Hi again!  Have you ever wondered what your favorite kind of music says about your personality?  I often have, especially since I have such a diverse interest in music.  I actually listen to almost any kind of music, depending on the mood I am in.  With that being said, let me show you my first infographic!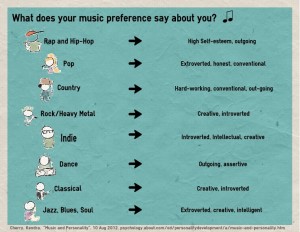 I apologize for the pictues- I'm a bit paranoid about copyright-as most music/library teachers are, so I drew them all myself!  You can see why I didn't go into art.  🙂
Our first lesson in second, third, fourth, and fifth grade music class will be exploring the kinds of music we listen to, which is why I thought this topic might be interesting.  While we won't be making an infographic (yet) we will be showing our musical interests and background through another visual aid: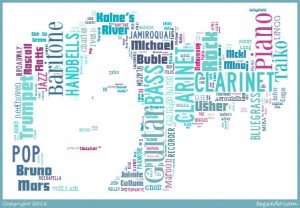 For this I used a site called tagxedo.  For my infographic I used a site called Easel.ly
I think these are great ways to both present and receive information, especially for visual learners.  Are any of you visual learners?  Leave me a comment and let me know!  I am a kinesthetic learner, which means I learn best by doing.  I am especially good at learning through teaching.  For example; I still attribute my A in college Biology to my ex-boyfriend.  He slept through the entire class and I had to stay up all night before the final exam to reteach the information to him.  I was not happy about it at the time, but later I realized that I probably would not have understood the information as well if I had not had to teach it to him!
Less than a week until teacher workdays begin, and less than two weeks until school starts!  I can't wait to meet everyone!  Have a great last few weeks of summer!